Description
The following chart lists an overview of what is deemed safe radiation in CPM and Micro Sieverts…
WATCH THIS VIDEO FOR MORE ON THE DANGERS OF EMF:
SOME OF THE REVIEWS FOR THIS PRODUCT:
A dual-detector unit, it is very versatile. Sensitive enough to detect very low levels as background, but does not max out at high levels >30,000 CPM like my other small "pocket" units do, such as a Russian one and my Monitor 4 EC does. As in previous years, I wore it during a Technicium 99m stress test where I anticipated a total dosage of 960 MReM. It was interesting after the test to watch the tracer first concentrate in the liver,a and slowly rise in activity in the region of the kidneys. My old clunky Victoreens of course were made for "End of the World" scenarios, and would be perfectly happy handling high counts, but bringing one of those along would be unrealistic and indiscreet.. The "Fits in a pocket" size is handy for yard sales
Very well made. Feels solid. The best value out there. You do not need to use any software if you do not want to. It work fine standalone. If you want to use it with wifi to put data on their mapping server you still do not need software but using the software makes it a little easier putting in long Wifi passwords. The full manual is at their site as a pdf and so is their software if you want use their data logger software to over data to a PC to see and graph or if you want to configure the device from the PC. They have their FREE data logging software and also a Pro version. The free one is GQ Geiger counter Viewer. Their USB driver is the USB Driver for V4, V5 or later. Download and print manual first. You can print the manual and software before you by it from GQElectronics. It is reasonably calibrated, You also have the ability to calibrate yourself with a radioactive sample. No need, if comes calibrated well enough. Only VERY expensive ones come individually exactly calibrated and even those need to be recerified every year. This is all you need, don't get crazy. I had no problem with the software or connecting it to my Wifi and I am logging to their map now. Hint – do not turn on Wifi until you configured it. I feel this new model is way ahead of their lower cost models and worth the little extra.
I was very impressed by this very high-tech device. It provides gamma and beta radiation readings in all the most common units, my choice being CPM (counts per minute). The LCD display was large and easy to read, even out in the blazing desert where I was.
Thanks for a solid product!
With so many Geiger counters available online, it's easy to become confused when comparing specification and features to meet your needs. First, ask yourself, "why are you looking to buy a Geiger Counter and what is your application?" Your answers to this question will refine your search for a Geiger Counter model that will best satisfy your need.
Why other people purchase Geiger counters:
Safety checks for radiation levels in your environment, home, food, water, and surroundings
Anyone living close to a nuclear power plant.
First responders who need a reliable and accurate Geiger counter.
Interested in science and want to perform nuclear experiments?
Survivalist being prepared for a nuclear accident or emergency?
Gadget lover who wants to play with these instruments to satisfy your curiosity.
Prospecting for uranium ore or radioactive materials is an interest.
Collecting – checking vintage Fiestaware plates or glow-in-the-dark clock hands for radioactivity?
What is a Geiger Counter?
Before we look into features you need to look for in a Geiger Counter, let's first define what is a Geiger counter. After all, you do not want to purchase an instrument that is not a Geiger Counter! Geiger Counters are instruments that can detect and measure radioactivity using a Geiger Mueller tube. Geiger Mueller tubes are commonly referred to as a GM tube tube. The original design of the g-m tube by Hans Geiger and E.W. Mueller in 1928 hasn't changed much and the tube's sensor function remains the same.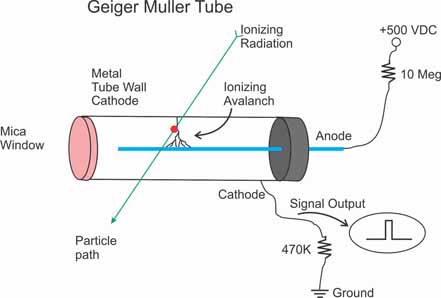 Radiation, as it passes through the GM tube, ionizes the gas within the tube. The ionization initiates a momentary avalanche of electrons accelerate by the high voltage potential used to power the GM tube. This avalance, create a momentary conductive path between the wire at the center of the tube (Anode) and the wall of the tube (Cathode), see figure 1 resulting in a 'click' sound. By measuring the number of the clicks, the instrument indicates the radiation levels.
The GM tube sensor is the heart of the Geiger counter and to be a Geiger counter, the device has to contain a Geiger-Muller (GM) tube.